Last updated on April 23rd, 2023
How to buy web hosting in Ghana and how to buy web hosting in Ghana with mobile money. These are the questions most people looking to buy web hosting in Ghana ask.
If you are one those people looking to buy best quality web hosting in Ghana or at the same time in search of cheap web hosting in Ghana then you are at the right place.
In this article, you are going to learn what web hosting is and how to buy it in Ghana. You will also see how to buy web hosting and pay with MTN MOMO, AirtelTigo Money, Credit/Debit cards, or even with PayPal.
How To Buy Web Hosting In Ghana
What is web hosting?
Web hosting is the computer and networking infrastructure that keeps your website available across the internet 24 hrs a day. In other words, web hosting basically is where all your files are stored on the internet 24 hrs a day.
According to Wikipedia, web hosting is a type of Internet hosting service that allows individuals and organizations to make their website accessible via the World Wide Web.
There are different types of hosting;
Shared Web Hosting: Shared web hosting is a type of hosting where your server is being shared with other people. In other words, you are sharing the same server resources with other people. Shared web hosting is very affordable and newbie-friendly.
VPS Hosting: VPS hosting is a virtual machine that is shared with other virtual private servers on a single physical hardware server. With VPS hosting server resources like RAM, disk space, CPU, etc is not shared with anyone but dedicated only to you.

Main Benefits of VPS hosting

Dedicated resources: Dedicated amount of RAM, disk space, and CPU processing power.
Full root access: customize every aspect of the server all the way up to the operating system.
Reliability: It's your server, your websites, no one uses or shares it.

Who needs it?

Application Developers
High Traffic Websites
Web Hosting Resellers
Those who Require Full Root Access

Dedicated Hosting: This is easy to understand. Take all the advantages of a VPS but now visualize yourself having an entire physical server to yourself. It's only your stuff hosted on it nothing else. It is the most expensive server compare to VPS.
How to buy web hosting in Ghana: Step by step.
Video Tutorial
If you do not like the video or need more instructions, then continue reading…
In tutorial, you will learn how to buy a shared web hosting in Ghana with mobile money.
As beginner starting out it is good to start with shared hosting and as your traffic grows you then scale up to VPS or dedicated hosting.
Shared hosting is a very economical web hosting and it is very user-friendly unlike VPS and Dedicated servers which are very techy.
Go to www.aveshost.com
To buy web hosting in Ghana, go to Aveshost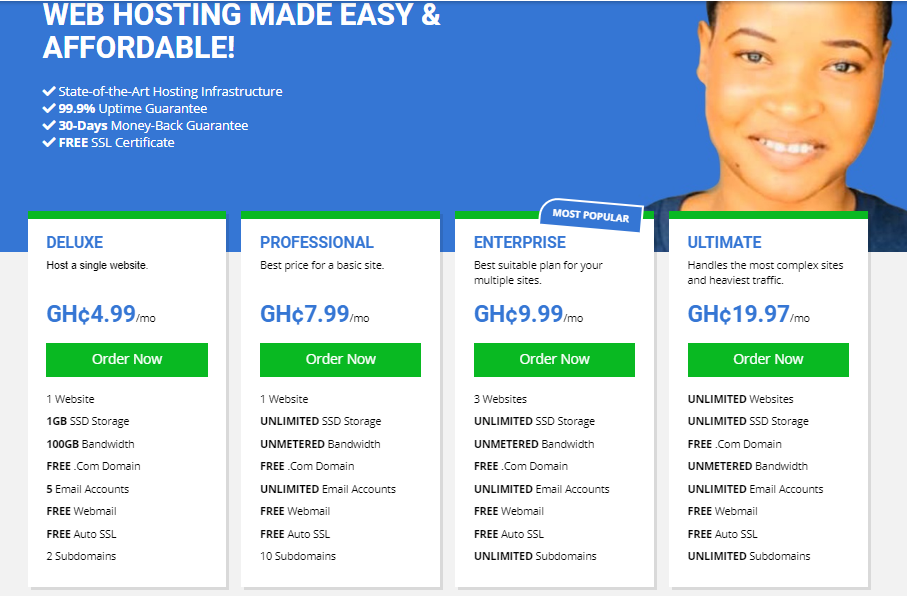 Choose one of the four hosting packages and click on Order Now. Each of these packages comes with a free domain name registration for the first year.
Free domain name starts from 3yrs for our Deluxe and professional plans, from 2yrs for our Enterprise plan & 1yr for our Ultimate plan.
If you are buying web hosting for a year you won't be getting a free domain name except for our Ultimate hosting plan.
You can start with our basic plan which is the Deluxe as a starter. But we recommend you go with the Professional hosting plan which is unlimited in storage, unmetered bandwidth, and more.
If you want to host more than one website (Up to three) you can opt-in for our Enterprise hosting plan, with this plan you can host up to three websites. If you are a business or a developer who is looking to host unlimited websites then go with the Ultimate hosting plan.
Choose a domain name for your web hosting package
After choosing a web hosting package, on the next page, you have three options to either register a new domain, transfer your domain from another registrar, or use my existing domain and update my nameservers.
For your domain registration, please choose a domain that is short, concise, easy to spell, and call.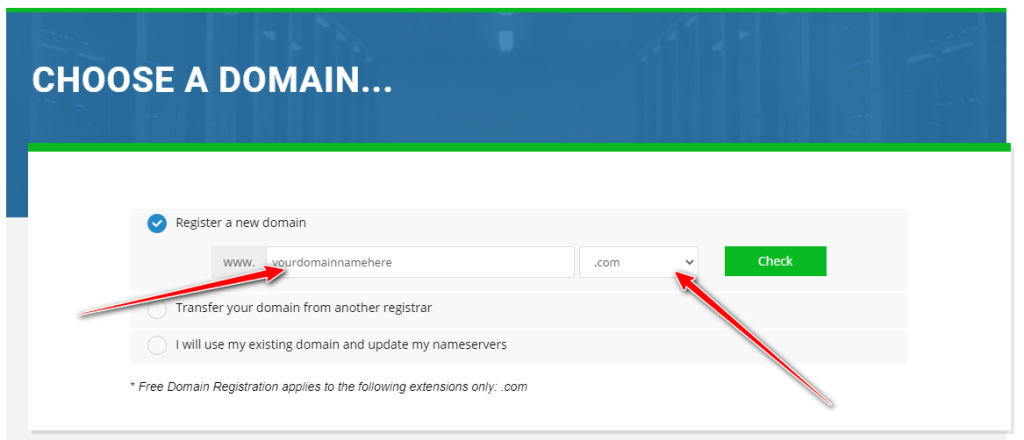 Enter the name of your domain, select your domain extension let say .com, and click on Check to see if it is available if your preferred domain is unavailable it means it has been taken in that case, search for a different one.
When you arrived at a preferred domain name click on the continue button to the next step.
Choose Billing Cycle ( Web hosting duration)
For the purpose of this tutorial, we have chosen Professional Package.
Choose Billing Cycle as you can see when you decide to go for monthly the price is GHS9.00, yearly the price for a month is GHS8.20 calculated annually, biennially the price for a month is GHS8.00 calculated biennially
and triennially the price for a month is also GHS7.99 calculated triennially.
Now choose your billing cycle period and click on the Continue button to the next step.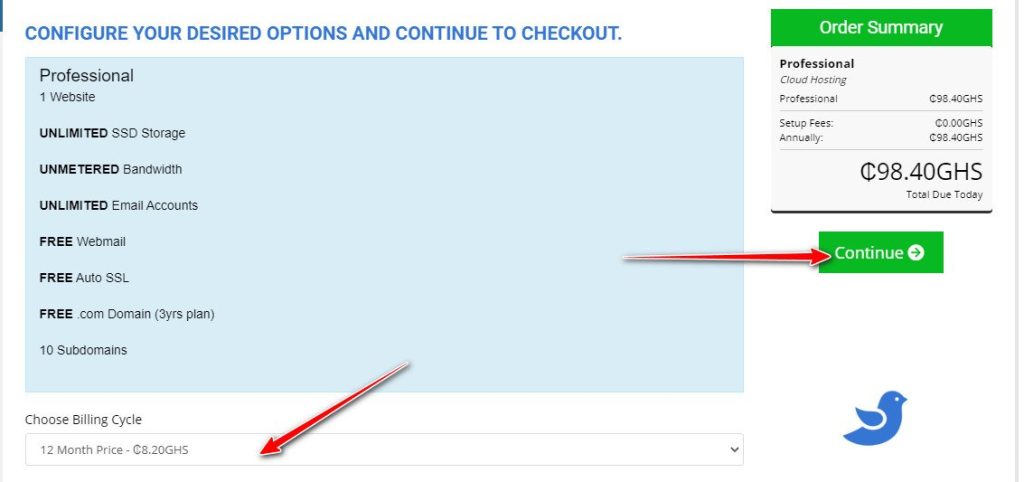 Domain add-ons Selection
You will be presented with some optional add-ons. These are completely optional you can skip them if you want or choose any of them.
We will recommend you choose ID Protection and as you can see it will protect your personal information and reduce the amount of spam to your inbox when you choose it.
Now click on the Continue button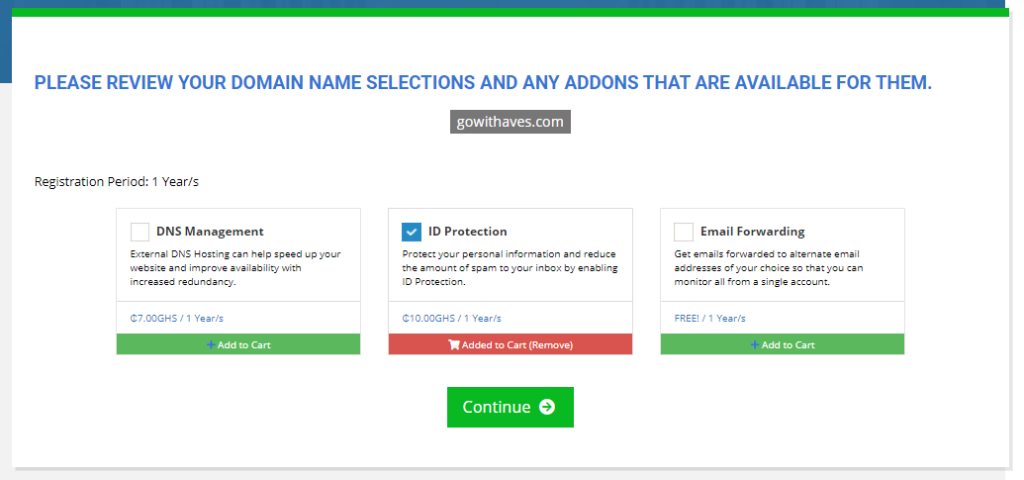 Web hosting order summary
Review your web hosting order summary and proceed by clicking on the Checkout button to continue. Domain registration is GHS60 per year plus any added domain add-ons.
If you have a promo code enter it or leave it blank and proceed.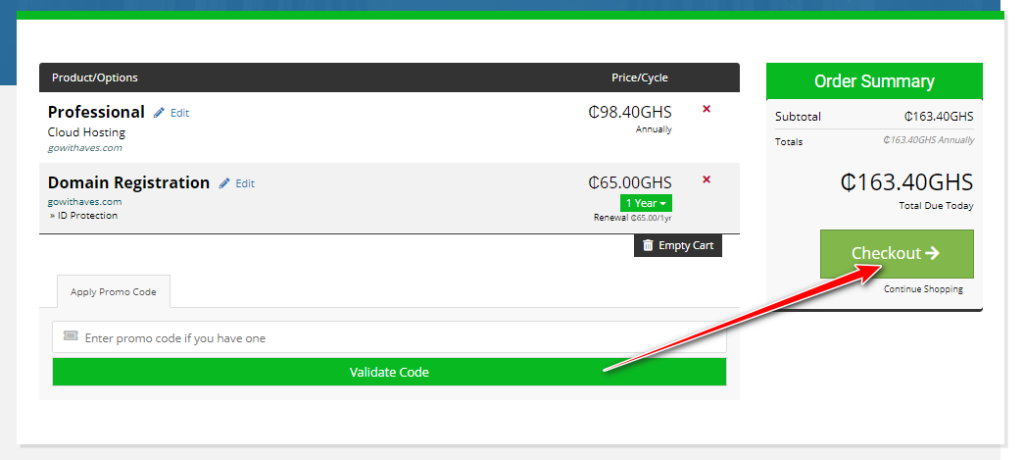 Web hosting account creation
If this is your first time on Aveshost you will have to create web hosting account or login with your existing one.
Enter your personal details and billing information and click on Complete Order. Please note the state is your Region.
Also accept the Terms of our Service.
Checkout with mobile money or credit card
Please take note to disable your Adblocker if you are using one otherwise it will block the PayStack Popup window from loading.
Now choose either to pay with credit/debit card or Mobile Money, there is a processing fee of GHS2.00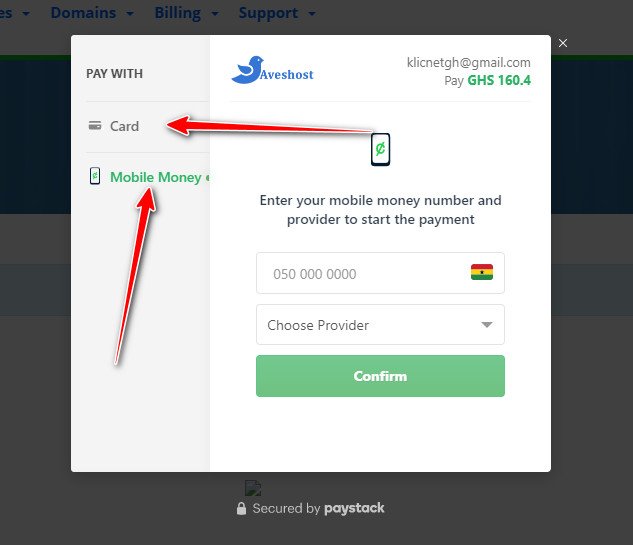 After payment, you will be redirected back to your Aveshost Client Area or Dashboard. You will also receive an email containing your receipt and login credentials to log in to your cPanel.
Please take note it will take 48hrs for your domain to be properly propagated but here at Aveshost sometimes it takes only 10 mins or less.
cPanel login and installation of WordPress
You can log in to your cPanel from your Aveshost Client area. Or go to your client area and click on SERVICES as shown below.

Click on the magnifying icon as shown below.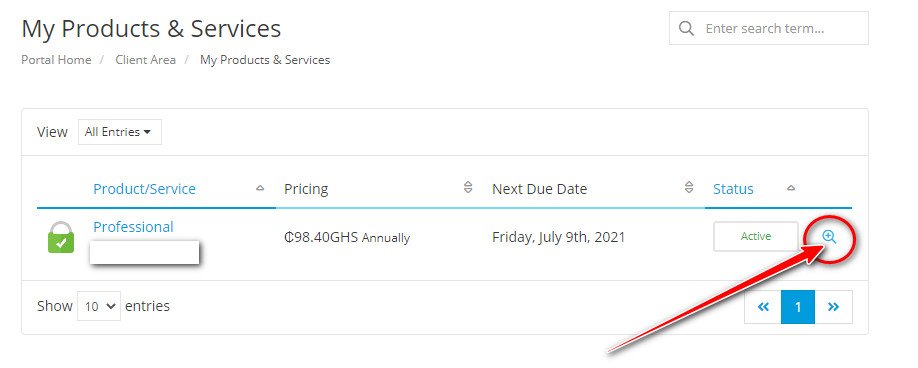 Now click on Login to cPanel as shown below.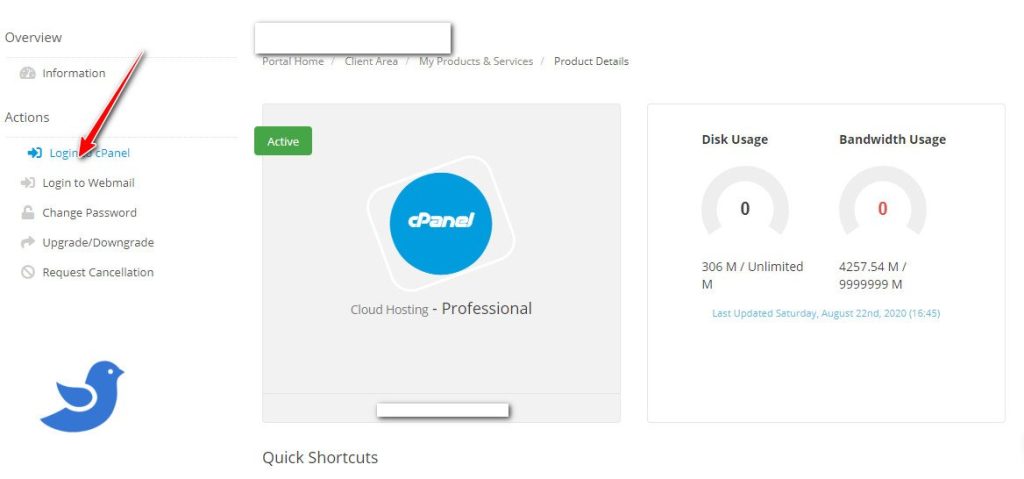 Related
How to Install WordPress from cPanel
How to Create a Business Website FREE in Ghana