When a business plans to go online or build a website, the first job is to search for the best, reliable, and most affordable web hosting service provider. A web hosting company can help businesses with different types of web hosting services, including a viable domain name, dedicated servers, VPS hosting, and web designing.
Businesses must consider various pivotal factors to select a web hosting company, such as the hosting services, pricing model, core accessible features, customer support and reviews, website security, etc. They must also consider loading speeds with a 99.99% uptime guarantee and check server locations. 
Top-notch IT Review and Rating agency and reliable B2B listing platform GoodFirms has recently ranked Aveshost for its exceptional and secure hosting solutions to place it under noteworthy companies and identify it as the 'Best Company to Work With.'
Aveshost is a leading web hosting and web development company based in Dzorwulu, Accra, providing a broad range of services, such as different types of hosting, web designing, VPS hosting, dedicated servers, and offering domains. 
For 2023, Aveshost is Identified by GoodFirms as the Best Company to Work With
Are you looking for the best web hosting service provider that offers various hosting plans, including shared hosting, VPS hosting, and dedicated servers, allowing customers to choose the option that best suits their needs? If yes, then Aveshost is the right choice as it delivers outstanding service and value for money.
Whether you need a simple informational website or a complex e-commerce platform, Aveshost's skilled developers can bring your vision to life. With its expertise in web development, the company ensures that your website is not only hosted securely but also optimized for performance and user experience. Upon considering all these advantages, GoodFirms recognized Aveshost as the 'Best Company to Work With.' 
Aveshost – Strengths and Vision
When you partner with a leading web hosting service provider, such as Aveshost, you get access to top-notch hosting services and professional web development expertise under one roof. Their hosting plans include ample storage space, unlimited bandwidth, email accounts, and robust security measures such as SSL certificates and firewall protection.
The company also offers domain registration services, allowing customers to conveniently purchase and manage their domain names alongside their hosting accounts.
Aveshost supports popular content management systems (CMS) such as WordPress, Joomla, and Drupal, offering seamless integration and optimized hosting environments for these platforms.

"Aveshost provides a reliable and secure hosting solution, ensuring your website is always accessible and protected. With Aveshost, you can expect exceptional performance and lightning-fast loading times for your website," says Aveshost.
Several clients that have hired Aveshost for different services, such as reliable and secure hosting solutions, web designing, and development, are happy and satisfied with their prompt customer service and quick resolution time.
"Our customer support team goes above and beyond, providing prompt and knowledgeable assistance to address any hosting-related queries or issues. We offer hosting plans tailored to the needs of small businesses, providing the perfect balance of features and affordability," added the company. 
Aveshost has a transparent and fair pricing structure with no hidden fees or surprises. Customers can choose from various billing cycles, including monthly, annual, and longer-term plans.
Let's go through a few customer reviews below: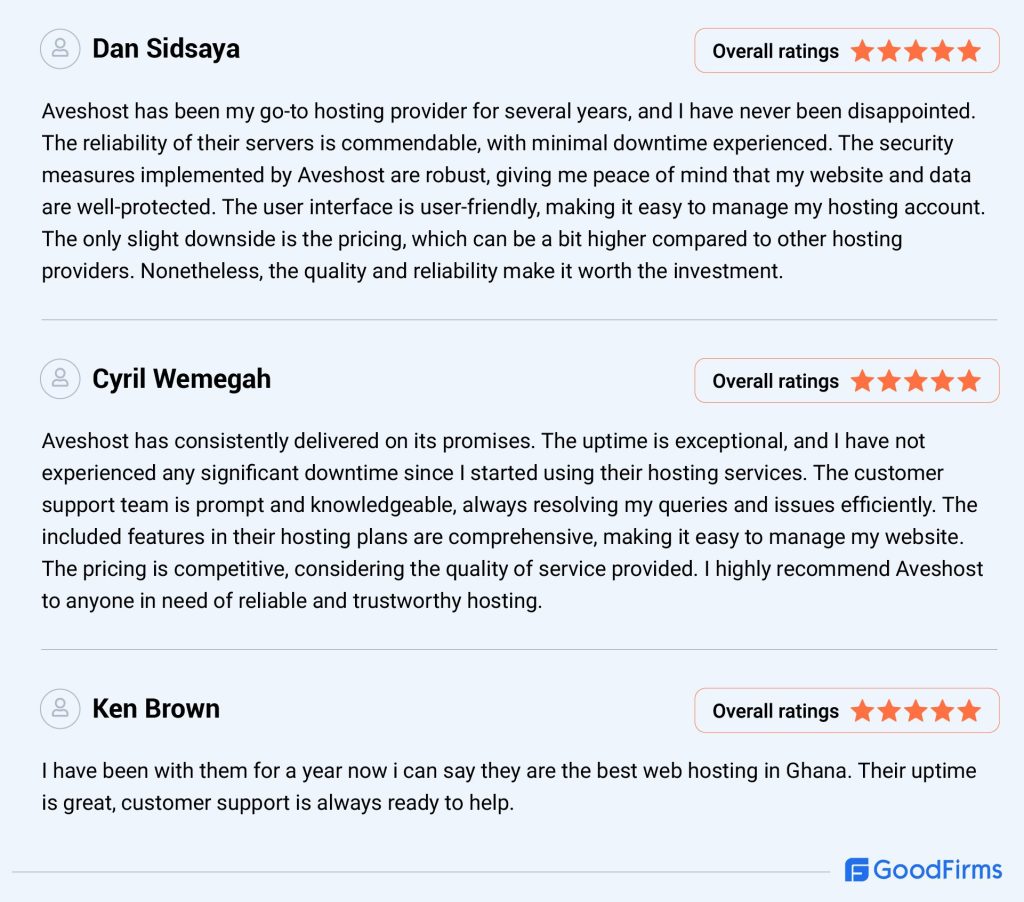 Why is Aveshost the Best Company to Work With?
Web hosting services have become more advanced and digitized with cloud hosting, carbon-free data centers, and artificial intelligence. Aveshost utilizes state-of-the-art data centers equipped with redundant power sources and advanced cooling systems, ensuring maximum uptime and stability.
Their hosting infrastructure is built on high-performance servers with SSD storage, providing faster data access and improved website performance. They provide easy-to-use website builders and one-click installation options for popular web applications, simplifying the process of creating and managing websites.
"We at GoodFirms believe that the reliability, performance, and affordability of Aveshost have made it a top choice for individuals and businesses alike," mentioned GoodFirms Aveshost emphasizes the importance of regular backups, offering automated backup solutions and the ability to restore your website to a previous state if needed.

About the "Best Company to Work With" Badge
"Best Company To Work With" is an exclusive program run by GoodFirms. All the companies recognized as the top performers via its Leaders Matrix program get a chance to claim their Badge, along with an exclusive article about the Company and a supporting PR. Such recognition stands as a support to developing trust and authenticity within the B2B community.
It also allows the participating companies to improve their ranking – ranks higher in the Leaders Matrix categories and receive inbound backlinks from the GoodFirms LeadersRoundtable podcast campaign, with a certified Badge saying, "Best Company to work with."
About GoodFirms
GoodFirms is a B2B review and rating platform helping businesses accelerate their digital journey and maximize modern technology's value. The company connects service providers with service seekers through a comprehensive and thoroughly researched fact-based list of the best services and solutions. Recognized as the most reliable source for the B2B market, GoodFirms has world-class experience with partners across the globe.
Also, Read;